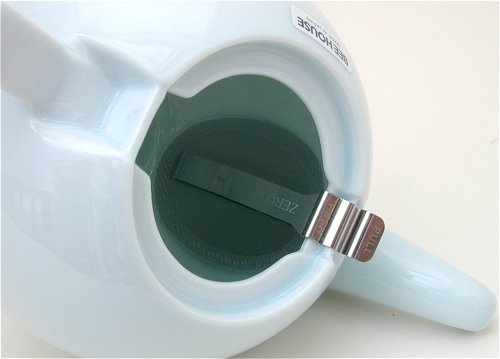 Zero Teapots from Japan

Click HEREto see the full range of products.

Click HERE to see the full range of teapots. All Bee House products are made in Japan by Zero. Zero Japan is Japan's leading manufacturer of teapots and tea accessories. Zero is marketed in the USA as Bee House. All of the Beehouse - Zero products are lead free, microwaveable and dishwasher safe. Each teapot comes with a removable stainless steel infuser and lid so you can use regular teabags or insert the stainless steel infuser to brew loose tea.

This particular teapot design has a removable stainless mesh strainer that covers the opening on the inside of the pot where the spout joins the body. This allows the tea to have maximum contact with the water and strains the tea leaves when you pour.

The photo above shows the Zero tea pot on its side with the lid removed. The infuser is curved to follow the contour of the inside of the teapot. Available in 3 sizes and colors. This is just one example of Zero's innovative teapot design.



This particular stlye has been discontinued and is no longer in production. All we have left in stock are shown below.


| | |
| --- | --- |
| Zero Teapot Pistachio 15 oz | $31.95 |
| | |
| --- | --- |
| Click on photo for larger image if available | |

Zero Japan Teapot in Pistachio.
Holds 15 ounces and is 4 1/4 inces in diameter x 3 3/4 inches high.


| | |
| --- | --- |
| Click on photo for larger image if available | |

Zero Japan Teapot in White.
Holds 15 ounces and is 4 1/4 inces in diameter x 3 3/4 inches high.
Wide Tea Mugs available Click HERE
Tall Tea Mugs available Click HERE
Tea Mugs with handles available Click HERE
Square Tea Mugs available Click HERE