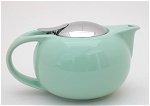 Beehouse Teapots made in Japan come in an 11 Ounce Saturn Design.
These adorable little teapots come with a removeable screen infuser and stainless steel lid so that you can microwave the teapot. When done, you can reinsert the infuser and the lid to brew the tea.

These are the SMALLEST teapots Bee House makes. They are only suitable for a 'single' serving.
If ordering a replacement lid or a replacement infuser, order the small size.
Due to the variations in monitor set-ups, the colors shown may be differant in person than the color displaying on your screen.

The Saturn style teapot (BBN17) is also available in an 18 ounce, 30 ounce and 48 ounce.
Click HERE for the 18 ounce teapots.
Click HERE for the 30 ounce teapots.
Click HERE for the 48 ounce teapots.

Click HERE to return to the Teapot Index.


| | |
| --- | --- |
| Click on photo for larger image if available | |

White Bee House teapot in a saturn style (BBN17S-WH) holds 11 ounces.
4 inches x 3 inches high.


| | |
| --- | --- |
| #4 Infuser 1-3/4 High x 2-1/8 Diameter | $7.95 |
| | |
| --- | --- |
| Click on photo for larger image if available | |

Replacement Infuser for the 11 ounce Saturn teapots.
Height = 1-3/4 inches
(The cost of this item includes the shipping if the infuser is ordered separately. Please ignore the shipping charge reference when you check out.)


| | |
| --- | --- |
| #6 Small Replacement Lid | $9.50 |
| | |
| --- | --- |
| Click on photo for larger image if available | |

Replacement Lid for the 11 ounce Saturn teapots.
2-1/8 inches diameter.
(The cost of this item includes the shipping if the lid is ordered separately. Please ignore the shipping charge reference when you check out.)